2019 Halloween Party Realistic Dinosaur Costume for Events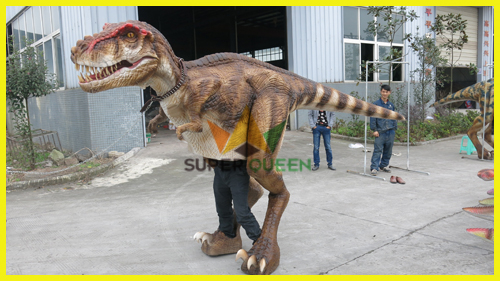 Product name: SuperQueen-Adult Dinosaur Costume,Realistic Dinosaur Costume,Raptor Costume for Entertainment
Brand name : SuperQueen
Size : Length=4.2 meters, Height fit for = 170cm-185cm
General production size :almost 4.2m or depend on performer's height
Sound :Real dinosaur sound or customized.
Package : wooden case / Air case/ depends on customers' choice
Delivery Terms :EXW/FOB/CIF/Depends on cstomers' choice
Mode Of Transportion: Land/Sea/Air/Railway
Delivery time: 20 days/Depend on the quantity of order.
Technics : All handmade
Movements:
1.Mouth open and close with synchronized roaring sound,
2.Blink,
3.Head moving up and down, left to right,
4.Tail moving,
5.Body moving up and down, left to right.
All controlled by the human inside.
Please contact us to check videos.
Accessories:
1. Auto speaker
2. Camera
3. LED monitor inside
4. Batteries
5.Safe belt
6. Performing collar
How to put when donnot use
1.Hang up on the frame steel we offer .
2.Keep it into the package case when donnot use it for a long time.
After-sale service
12 months(after the warranty,we can provide life-long paid repair or service support . )
Dinosaur Working Process
Products Application